High Speed Mobilfunkrouter GWR

Die High Speed Mobilfunkrouter Serie GWR wurde speziell für Anwendungen entwickelt, bei denen es auf hohe Datenraten (bis zu 100 Mbps) und große Datenmengen ankommt.
Die Geräte unterstützen 2G (GPRS, EDGE), 3G (UMTS, HSPA+) und 4G (LTE) Mobilfunktechnologien sowie WiFi.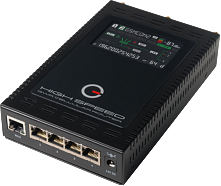 GWR High Speed Cellular Router Series represent a group of high speed cellular routers specially designed for those applications where high speed data transfers (up to 100 Mbps) over GSM network are required. These routers are pure machine to machine connectivity solutions. Complete series is based on reliable and high performance hardware platform including ARM Cortex-A8 microprocessor.
GWR High Speed Cellular Router Series inherited the basic concept of GWR Cellular Router Series – RELIABILITY COMES FIRST. Therefore all router models have dual SIM card support. This cellular router series also supports additional WiFi option. GWR High Speed Cellular Router Series features both 3G and 4G (LTE) connectivity.
Many useful features make GWR High Speed Cellular Routers a perfect solution for wide variety of mobile broadband applications (video surveillance, digital signage, mobile office and retail/point-of-sale, field service …):
Dual SIM card support increases the reliability of the router and provides a solution for those applications where failure of one mobile network must not result in system downtime.
The whole set of advanced WAN settings allows the user to specify desired parameters in order to meet the requirements of specific cellular network. GWR routers proved themselves to be reliable and high performance devices in so many countries around the world.
VPN (GRE, IPsec and OpenVPN) tunnel support provides powerful options for network expansion and secures data transfer over the cellular network.
With Serial-to-IP feature it is possible to connect, control and perform data acquisition from almost any device with serial RS232 port. In addition to this feature, GWR router series implements ModbusRTU-to-ModbusTCP functionality designed to support expansion of Modbus SCADA networks over the cellular networks.
Easy to use web interface, extended CLI (Command Line Interface), Chroot environment exposed to the customer, detailed log, SMS control feature, partial and full configuration Export/Import and remote management and monitoring software provide wide range of management functionalities. All those features and tools empower a user with full control over GWR routers.
Chroot environment enables users to create their own applications adding new functionality. Supports for Bash (shell) scripts, compiled C/C++ executables, LUA, Python, Perl